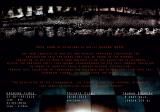 Illuminating the Void
http://www.eugenewood.co.uk/
Shop 8 | 07957417309

Private View: Thursday 26th May 2016 | 6.00pm -10.00pm
Opening Times: 27th - 30th May | 11.00am -8.00pm
31st May | 11am-5.30pm

Solo show of paintings by artist Eugene Wood.
The show consists of new oil and acrylic paintings continuing the exploration into the glory that can be found in the mundane. Isolation is key in Woods work, whether it be the isolation of elements within the ordinary until they become extraordinary, or his self imposed isolation in order to identify these elements without distraction. Through this isolation he transcends the presumed and offers us a view into the, otherwise hidden,unusual within the norm.