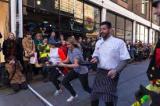 Great Spitalfields Pancake Race
http://www.alternativearts.co.uk
Dray Walk, Old Truman Brewery, Brick Lane E1 6QL | 020 8800 6665

Shrove Tuesday 9 February 2016 | 12.30pm

The Great Spitalfields Pancake Race raises funds for London's Air Ambulance. Teams of 4 suitably dressed up (or down) gather to compete for the honour of becoming this year's champions. They race up and down Dray Walk and prizes are awarded to the winners, runners-up, best dressed team and best behaved team. To enter a team email info@alternativearts.co.uk

There's a free hot pancake for every entrant!