Loading Bay Gallery is a shop front gallery on Dray walk; The Old Truman Brewery's pedestrianised lane that is a destination in its own right. With shops, boutiques, cafés and weekend markets and all just off Brick Lane & minutes from the City of London.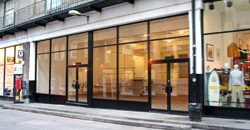 These settings offer great footfall, a lively atmosphere and amazing exposure. With great surrounding transport links and private car parks, a variety of potential clients visit the site.
Loading Bay Gallery features a glass front with great natural light. The open plan gallery has a high ceiling, white walls and wooden floor that leads to a raised mezzanine with concrete floor and columns. Creating an attractive empty canvas space to work with, spread over two levels with clear big views to Dray Walk.
Create your own identity and bring across your brand form a one-day sale to a seasonal shop enjoying the freedom & flexibility from our part. Some regular clients include howies, Rapha Racing, yes no maybe & many more..
Contact us for availability, quote requests and to book a viewing. You can check coming up sales and events at Loading Bay Gallery in our What's On? listings section.